According to some thoughts of wisdom, "a healthy person is a very sick person who has not seen a doctor yet". After that, a guessing game starts. Almost everyone's reaction when the tests are bad is denial. Once the person is out of denial they want a second or third opinion, hoping that the bad news will somehow go away. Miraculously, this is sometimes the case, when the second test is contradicting the first, and everything is fine again, along with the cursing of the first negligent and incompetent team who came up with the bad news, clearly wrong. But are they? The only way to find out is getting a third opinion. Well, at least in Canada this is not really possible. Reason? Some institutions or people may get discredited or offended, not a pleasant or acceptable thing in a politically correct society. Everything is on record. Every doctor can see who did what, and will not do anything that may lead to question the work of an esteemed colleague, whom you may need to cover for you when your time to make mistakes, comes.
In a large city like Toronto, there are, of course, many world class doctors, specialists, known experts and leading researchers. In order to be seen by any of them, the Canadian socialized medical system requires getting a "referral" from a family doctor. That is cumbersome and slows down the process enormously, but it is not the real problem. The real problem is that most of the family doctors have their own network of friends or business partner specialists, and the patient will only be referred to those. It is almost impossible to get a referral to a specialist of your choice.
Generally, there is no dialogue of any kind between doctors and patients. Many patients have no medical education or knowledge, and they just go by the "my doctor said or told me" rule. Those are the doctors' favorite patients. If any questions are asked, or anything the doctor said is challenged, that would take the doctor's time from billing the next patient, and the response is anything between ignoring you and a harsh reprimand for daring to have opinions when you are not a doctor. My mother, who had a strong knowledge of medicine, a curious mind, and a healthy dose of Jewish chutzpah, would always shock the doctors by asking what those green, yellow or red pills she was supposed to ingest, were for. The doctors just hated her.
Repeating a test with the same doctor? That would be considered total heresy. No need for that, they think, the first test says it all and is sufficient. Repeating a test with a different doctor? He can see it has already been performed elsewhere, so a repeat is not only against the rules, but also a guaranteed "hostile" act of stepping on the toes of the first doctor. Not a popular sport in Canada. One of the tests for my wife came out as "suspicious". By the protocol, one is strongly directed to have immediately chemotherapy and radiation, and then come back for a re-testing. The scenario starts looking nightmarish. It's time to escape.
So where do you go from there? It depends on who you are. We boarded a plane and went to Croatia, a place that can be great if some of the best doctors and specialists were your friends, colleagues or ex-students. We had to follow-up anyway with a leg vein operation performed two years ago, that was not successful and caused lots of pain and suffering. We saw that doctor and after a lengthy consultation the doctor admitted his "oversight" and fixed it for free, right there, in about one hour. Recovery was expected in a week.
Afterwards we could have used some time for a real vacation, in Croatia or maybe even in Romania, in Timișoara or Cluj, but it was not meant to be. Some other test results from Canada, of an oncological nature, caught up with us and were not good. The tests were repeated locally, in Croatia and confirmed to be bad. Over the next three weeks, two minor operations and one major followed, but no radiation or chemotherapy were required, and all malignant sources were eliminated. Technically it was a success, psychologically a celebration. The amount and quality of personal care and the use of very advanced technology made the recovery much faster and surgical butchery was almost completely avoided. That was far better than we could have ever had in Toronto. It was sad, hard to believe but true. It was not because of the lack of skills or expertise, but because of the rigid and business generating protocols in Canada. It is all free, but sometimes, you get what you pay for, or even more than you need.
Then finally we returned to Canada. One week later we were graced with an ugly car accident. We are now in full rehabilitation, and it looks like our brains are OK, our fingers fit for at least slow typing, and our buttocks suitable for short-term sitting. Not so bad… It will take months for full recovery, and I taught my wife the famous verses of Ion Minulescu's poem, so appropriate in our situation:
În orașul în care plouă de trei ori pe săptămână
Două jucării stricate merg ținându-se de mână
This week I started driving again, so we can go to see our lovely granddaughter. One day we'll get a second car again, in the meantime I'm doing double driving and double errands because the other car is a total write-off and does not exist anymore.
Now I have the leisure to think about our time in Croatia, especially Zagreb. It's mostly hospitals, clinics, labs, well wishing friends, some extraordinary doctors, some amazing nurses who worked even better on a permanent fuel of patient-supplied coffee, cakes, jewelry, cash, anything that would help their very low income and very high dreams. It all paid off in the end, with my wife being served meals from the doctors menu, having her sheets changed when needed, not when the nurses had time, getting a bed by the window, her own mini-fridge, a TV set obtained in a day rather than in a week. The doctors also talk in detail to the patients, explaining everything they plan to do and why, and mention alternatives. If they see, like in my case, a higher level of education and some medical knowledge, particularly if related to the case in point, they would talk even more, and not dismiss me like in Canada for not being a doctor.
The most valuable perk though was an arrangement with the head-nurse to be allowed to come and visit my wife, virtually any time, so I did that two-three times a day, bringing my wife her favorite deserts and sea food, after she was allowed to eat and hold her hand.
No, I did not have to sleep with the head-nurse, maybe because I was too old, but my mastery of the Croatian language, and my ability to tell her jokes that she found very funny created a bond of good will and a blatant disregard of the hospital visiting rules, which I used for the truly noble cause of seeing my wife. Now, as I think about it, I am sure that my jokes sounded so funny also because they were always accompanied by premium cakes, the occasional bottle of wine, and superb walnuts, almonds, and other goodies from the market. And let's not forget that my countless, credible sounding compliments to the make-up, hairdo, skills and personality of the head-nurse also helped the cooperation for my visits. It never stops amazing me how well flattery works for almost anybody.
Zagreb is a very nice and livable city, and being the capital of Croatia, has universities, lots of young people, plenty of government employees, great museums, theatres, concert halls, arts exhibition, fantastic eateries, markets, lots of classy, polite and well dressed people and countless eccentricities of all kinds, street arts and shows, not a dull moment. The Austro-Hungarian character of the architecture is well preserved throughout the city. Transportation is excellent, the street cars and busses take you efficiently just about anywhere. The average wait for a taxi is about two minutes. The reason is simple. While Zagreb needs an estimated 600 taxis, it actually has about 6,000. The licensing rules have been relaxed in the last few years and just about everybody can easily become a cab driver. The cars are equipped with modern, large size talking GPS units, so the driving is easy and the fares are relatively inexpensive.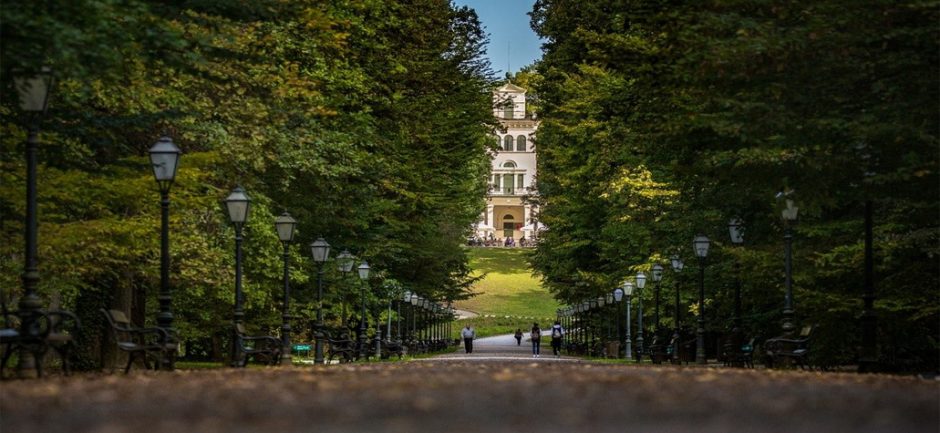 Something that I found interesting but at times scary, is the dense network of electrical bicycles, scooters, motorized boards of all sizes and types, some capable of reaching over 30 km/h. Most of them are using the sidewalks, slaloming skillfully between the legitimate pedestrians, but many are not so skillful and rather dangerous. I expected to see mainly very young people using them, but there are plenty of mature and even old men dressed conservatively, like lawyers or government employees in fancy suits and long coats, whizzing by on the electrical skate boards. When crossing a major intersection or getting on a street car, they just flip the board with the tip of their dress shoes, place it under their arm, and off they go.
I am an avid user of Nordic Walk poles, and I took mine (the collapsible version) to Croatia. I walked with them all the time to help me with upper body workout, but also giving much needed extra balance on uneven terrain. Zagreb's population is very athletic and I did not expect anybody to raise an eyebrow at the sight of me walking with the sticks. However, every time I got on a street car on my way to the hospital, somebody sitting, even young people would get up, offering me their seat. I was a bit intrigued, until I found out that in Croatia is a healthy tradition to offer the seat to elderly or injured-looking people. I had a bit of a problem with the "elderly" part (even though some of the young people could have easily been my children or worse) but the "injured-looking" was due to the fact that Nordic walking was not very popular there, so they just assumed that I am an older guy who needs the help of sticks, like crutches.
Between my visits to the hospital I maximized the use of my free time and visited a few original museums. Among them there were the "Museum of Broken Relationships", the "Museum of Torture", and also the "Museum of Illusions", showing various optical tricks often used in the movies, to make you look either a giant or a dwarf. Naturally, there are plenty of excellent arts and technology museums, but the three I mentioned are special.
In the few days when my wife was allowed to leave the hospital, we went (by taxi, of course) to see a couple of Croatian stand-up comedies and a theater comedy show, all of which I was able to follow and laugh loudly on time, so that it appeared that I understood everything. The secret was that I actually did, and I am quite proud of that.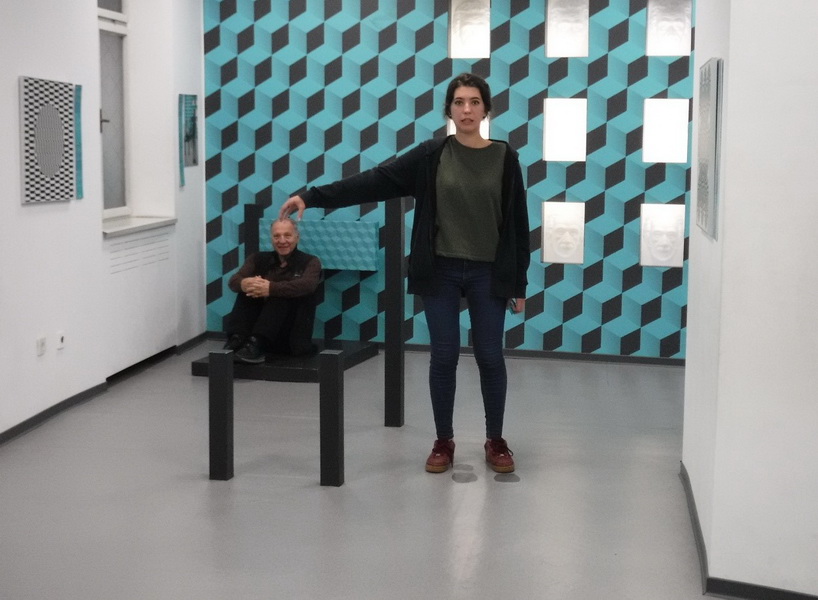 Or a giant…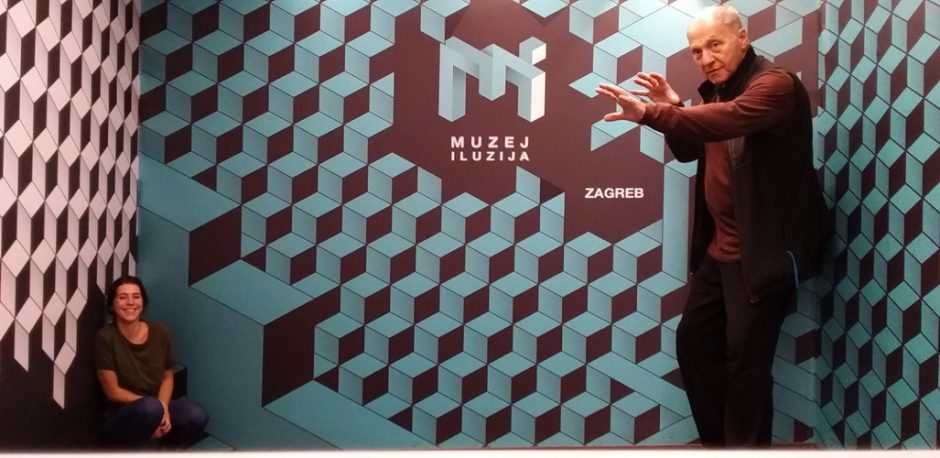 One respect in which no progress has been made over the many years we were visiting Croatia, is smoking. The Klinika "Petrova", a beautiful white baroque building with a nice garden, had tens of patients standing or sitting on the benches at the main entrance, chatting and smoking. There were also many doctors sharing the sinful pleasure with the suffering patients.
One day I was looking for the head-nurse, only to find her in the personnel cafeteria, almost lost in a cloud of smoke, populated by other nurses and doctors. I quickly understood that asking questions or, God-forbid, saying something negative about smoking was considered inappropriate and offensive to the smokers, so I never said anything.
By the beginning of November it started getting cold, rainy and windy, but nothing compared to what was waiting for us in Canada, with lots of snow already on the ground. So I treated the weather like a cool European fall, and did some walks in the very pretty parks of the city. I could easily live there for good, but there is no Adriatic sea, a major shortcoming.
A few words about Jews. Nobody in Europe likes Jews, and the catholic Croatians are no exception. However, there is something more important than love, and that is respect. Israel has solid visibility in designing luxury hotels in Croatia, developing resorts, helping with medical research and equipment, military high-tech equipment, commercial ship building and countless other things. The Croatians are well aware of that and show respect for the capabilities of Israel, and yes, unfortunately most of the people from Israel involved in those activities are Jews!
Strangely enough, but not uniquely in Croatia, Jewish professionals (doctors, lawyers, civil servants and even ordinary people) are identified and referred to first as "Jews", followed by their profession. They would say things like that Jew, doctor Zelsky, or that Jew, Berlinger, you know, the lawyer, did this or that. Very good people. It took me a while to realize that not all of them were anti-Semites, they just talk like that. No other non-Jewish people are identified first by their ethnicity or nationality.
Some of our best friends, exceptionally well educated people, keep on display pictures of controversial national heroes, some with fascist leanings. I came myself under occasional scrutiny because of my name, so I used my favourite cover as being Hungarian, because the name could be Hungarian and I speak the language, which they don't. It was simply not worth it to tell them the truth and ostracize ourselves socially. Those people meant no harm to Jews; simply they did not want to socialize with them. (Tradition, primitivism, envy, who knows?) This strategy allowed me to be fully accepted and to find out about their thinking and level of information and disinformation, a treasure of easy and simple intelligence collection.
Like all major European cities, Zagreb has a growing and visible Middle Eastern presence, some of them, not too many, being legitimate students.
We stayed close to the main post office in Zagreb, just across the "Hollow Tree Park"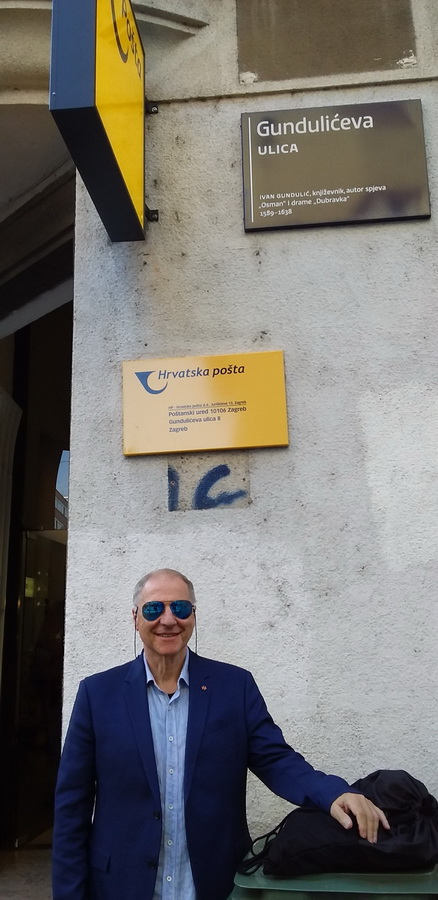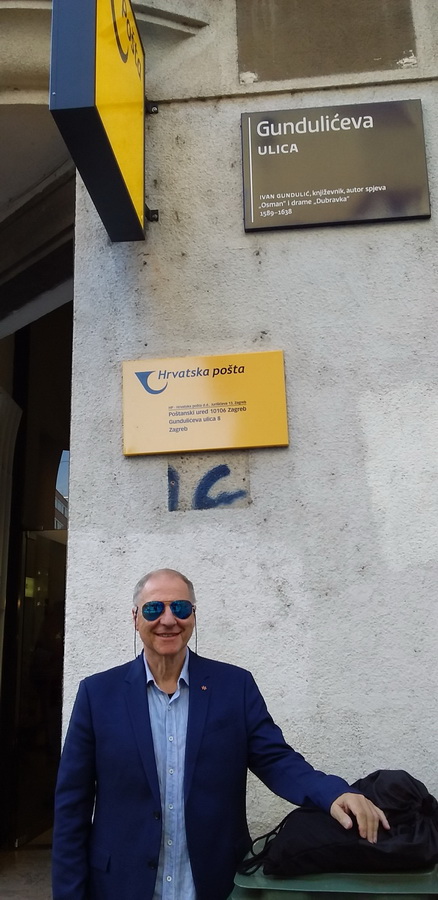 I could write about many other things, but my writing quota (as suggested by my butt) should end now for a few hours. This is not to suggest that my writing is "a pain in the butt", just that is limited because of it. Usually I listen to my brain, but after the accident, for a while, I will have to listen to may lower back and my butt.
I will write again soon, and I'm happy to be back with Baabel,
George Kun
Opiniile exprimate în textele publicate  nu reprezintă punctele de vedere ale editorilor, redactorilor sau ale membrilor colegiului redacţional. Autorii îşi asumă întreaga răspundere pentru conţinutul articolelor.
Comentariile cititorilor sunt moderate de către redacţie. Textele indecente şi atacurile la persoană se elimină. Revista Baabel este deschisă faţă de orice discuţie bazată pe principii şi schimbul de idei.